LENS Neurofeedback Free for Active Duty Military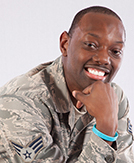 Mr. Walter Patrick Martin, LMFT offers FREE LENS Neurofeedback sessions for all active duty military NCO level this is my way to give back to you and all your hard work protecting our country. Through courses learned at the Center for Deployment Psychology I have learned to be more away of your speical needs. The Center for Deployment Psychology (CDP) trains military and civilian behavioral health professionals to provide high-quality, culturally-sensitive, evidence-based behavioral health services to military personnel, Veterans and their families.
We work hard to help you feel better as quickly as possible that is why LENS is utilize vs other types of treatment. It is the only system that deregulates the brain waves and disrupts disfuntional patterns. I have video testomonies that have stated that depressive syptoms begin lifting after only 3-4 sessions. Anxiety improves after only one session.